Authentic Italian Butterball Cookies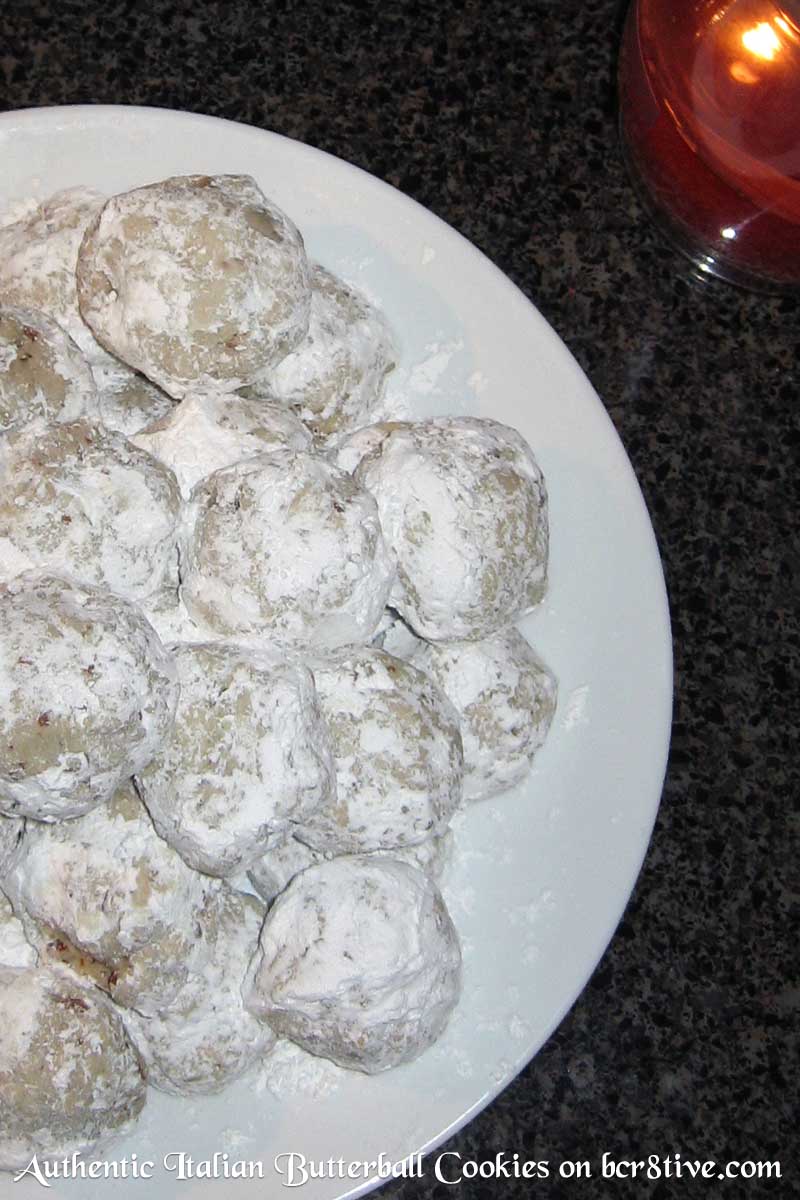 This is my personal recipe for Italian Butterball Cookies. Similar cookie recipes to these are referred to as Mexican Wedding Cakes, Southern Pecan Butterballs or Russian Teacakes, but I've browsed the web to see if anyone else makes this recipe this way and they do not. They always seem to be lacking an essential ingredient or using an ingredient that I wouldn't. I try to cook with fresh ingredients and predominantly from scratch when I can.
In my opinion, the chopped pecans are what make these cookies melt in your mouth delicious, as well as the combination of vanilla and almond extracts. I have to admit, I almost hesitated to post this recipe since it's my personal special for the holidays and I'm a little territorial about them, but then, sharing is caring and it's nice to think that perhaps you'll be nibbling on yours and think of me – and suddenly yell Thank You for telling me how to make these RIGHT bcr8tive!! 

These cookies are so good, you could certainly make them anytime you want a treat but they're perfect for the holidays and make a pretty gift too. They look a little bit like snowballs but they're much more tasty. The fact that they're a 'white' cookie also makes them an attractive choice for a wedding cookie too. They're just finger licking good.
The last few times I've made them, I packed them up for gifts into large food containers but you could certainly be more creative than that and line a gift box with a colorful napkin, store them in holiday decorated food containers or cookie tins. You can wrap them in cellophane or decorative party favor cookie bags and finish them off with a colorful bow tie or you could even fill mason jars or upcycled candle jars with them. I save those… the hoarder in me always thinks I'll find a use for them and I'm thinking of using some for Salt Caramel this year. 
(Note: If you want a bigger batch of cookies, multiply the ingredients) 

Ingredients
1 stick butter (room temperature)
1 egg
3/4 cup confectioners sugar
1 teaspoon pure vanilla extract
1 teaspoon almond extract
1 1/2 cups all-purpose flour
2 teaspoons baking powder
1/4 teaspoon salt
1/4 cup confectioners sugar (to coat)
4 oz Finely Chopped Pecans
Directions
Preheat an oven to 350 degrees F (175 degrees C).
Grease a baking sheet.
Grind the nuts and set aside.
Beat together the room temperature butter and 3/4 cup confectioners sugar with an electric mixer in a large bowl until smooth. Add the egg, vanilla extract, and almond extract. (Having the butter room temperature makes beating it easy and smooth)
Stir together the flour, baking powder, salt and chopped pecans in a bowl and mix into the butter mixture until just incorporated. (Scrape the bowl bottom with a rubber spatula to be sure you didn't leave any flour residue.)
Shape the dough into 1-inch balls and arrange on the prepared baking sheet spaced about 2 inches apart. (Sometimes I make all of the balls first so as the baked cookies come out, a new batch of cookies can go in.)
Bake in the preheated oven until firm, about 10 minutes.
(On my oven I go 12 minutes – you don't want them browned on the bottom, but you do want them cooked, so check on them and see how they're doing at 10 minutes.)
Remove from cookie sheet and let them cool completely. (I always set out wax paper so I can place them on it as they're coming out of the oven. You can also set them back on it after after coating them in confectioners sugar & before packaging them up.)
Spread the 1/4 cup confectioners sugar in a shallow bowl. Roll the cooled cookies in the confectioners sugar to coat. Place them on the wax paper until you're ready to package.
Check out the newest addition to bcr8tive's Creative Cookie Recipes – Lemon Ricotta Cookies with Blueberries and Lemon Icing – they're delicious!
All New! A Holiday Favorite! Noodle Kugel with Crushed Pineapple! 

Authentic Italian Butterball Cookies
was last modified:
December 13th, 2020
by