Noodle Kugel with Crushed Pineapple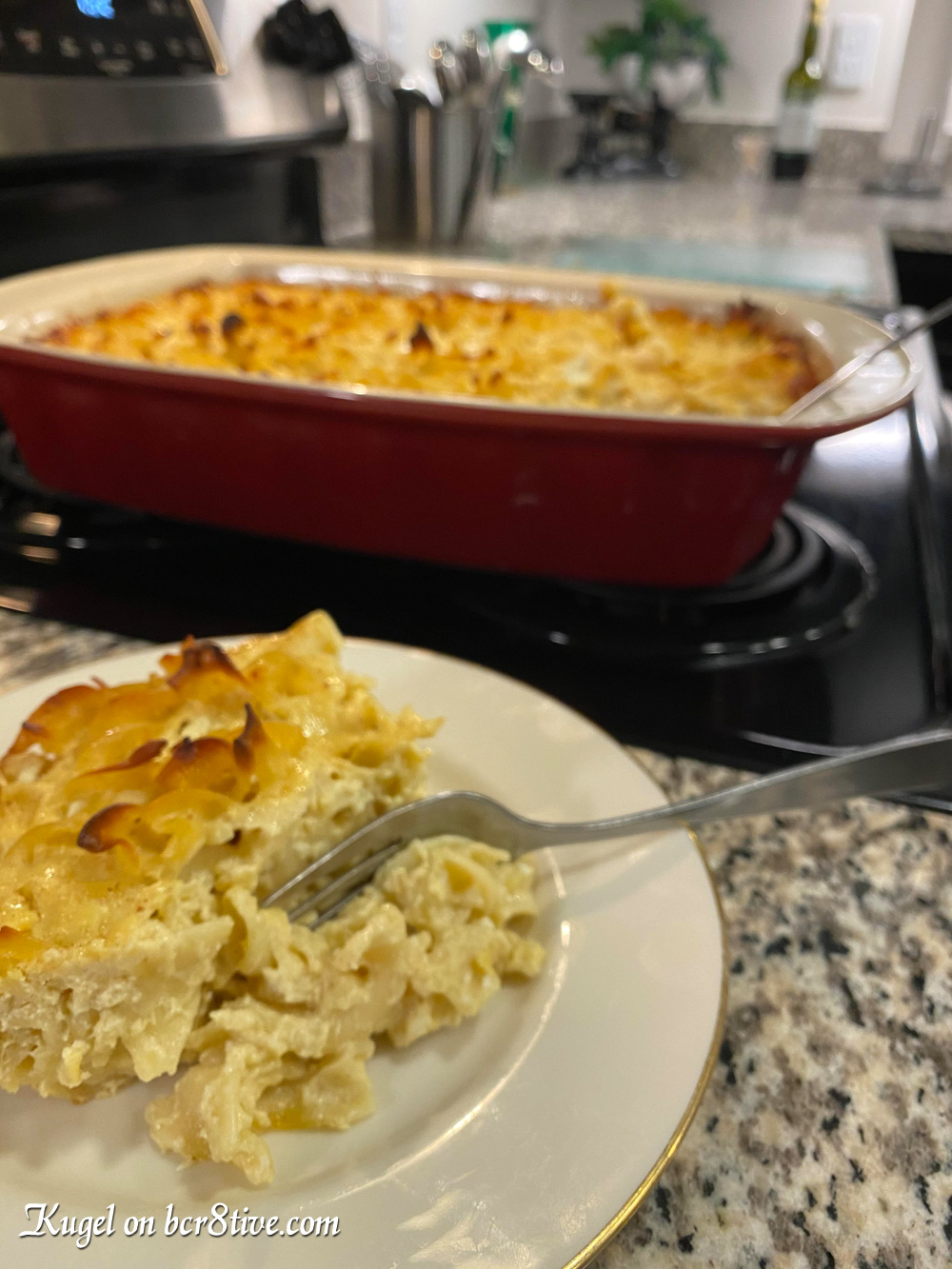 It has been ages since I've posted, I know. Had to break… just no time.
One thing I haven't stopped doing though is eating haha.


It's Covid right? What else are we doing…?
When I have a few minutes I've been sharing on recipe boards, and also taking a lot of pictures of my food… then it occurred to me that you all may enjoy them too, so here I am again!
(My Authentic Italian Butterball Cookies are a hit every holiday so it's worth trying it out. The cookies were shared a LOT and also, I've seen that a few people reposted it too and how do I know? Because a few things were tweaked by moi just like this one… it's 'creative'… 😉 hey what can you do? They do say imitation is the sincerest form of flattery!)
This is a recipe for a time honored Kugel dish that was actually conjured up by my late Mom. My Mom wasn't Hebrew but my father was – and his parents had passed and there wasn't an internet to Google how to make it – so my Mom had to guess and my Dad taste test, to tell her how close she was to what he remembered it tasting like, for her to 'build the recipe'.
So, with that said, you may be searching for traditional noodle kugel recipes now and find that their versions use sour cream or potatoes – all sorts of things – but this one is my Mom's and it's a little different, creative and really very good. Something between dinner and dessert. What could be better?
You also don't have to wait until the holidays to enjoy it. It serves up well warm or cold.
So here you go, hope you try it and enjoy it. Go for a walk after.

Noodle Kugel with Crushed Pineapple:
(Pronounced Koo-gul) (Baked Pudding)
Noodle Kugel is a baked sweet cheese & egg noodle casserole that is made a variety of ways
(This one, my Mom's version, is made with crushed pineapple & cinnamon) served warm or cold. So yummy you just can't leave it alone.
Ingredients:
1 lb Egg Noodles
8 oz Cream Cheese
8 oz Cottage or Ricotta Cheese
4 oz Melted Butter
1 cup Sugar
3 cups Cream or Milk (used almond)
5 Eggs
3 TSP Vanilla
1 can crushed pineapple (drained) (or raisins)
Sprinkle Cinnamon
Instructions:
1/2 cook noodles / rinse & drain
Mix eggs, milk, vanilla & set aside
Add cream cheese, cottage & mix together
Add egg mix, then pineapple (or raisins)
Preheat oven to 400 degrees
Mix together with noodles & pour into a greased lasagna pan, bake at 400 for 45 minutes to one hour. Until it starts to brown on top.
Let it set (cool)
(As you can see in the photo above I did not let it sit as long as I should have because I wanted to eat it – It will stay together nicely if you let it sit overnight in the refrigerator 🤭)
Serve warm or cold.
Can add a little whipped cream too.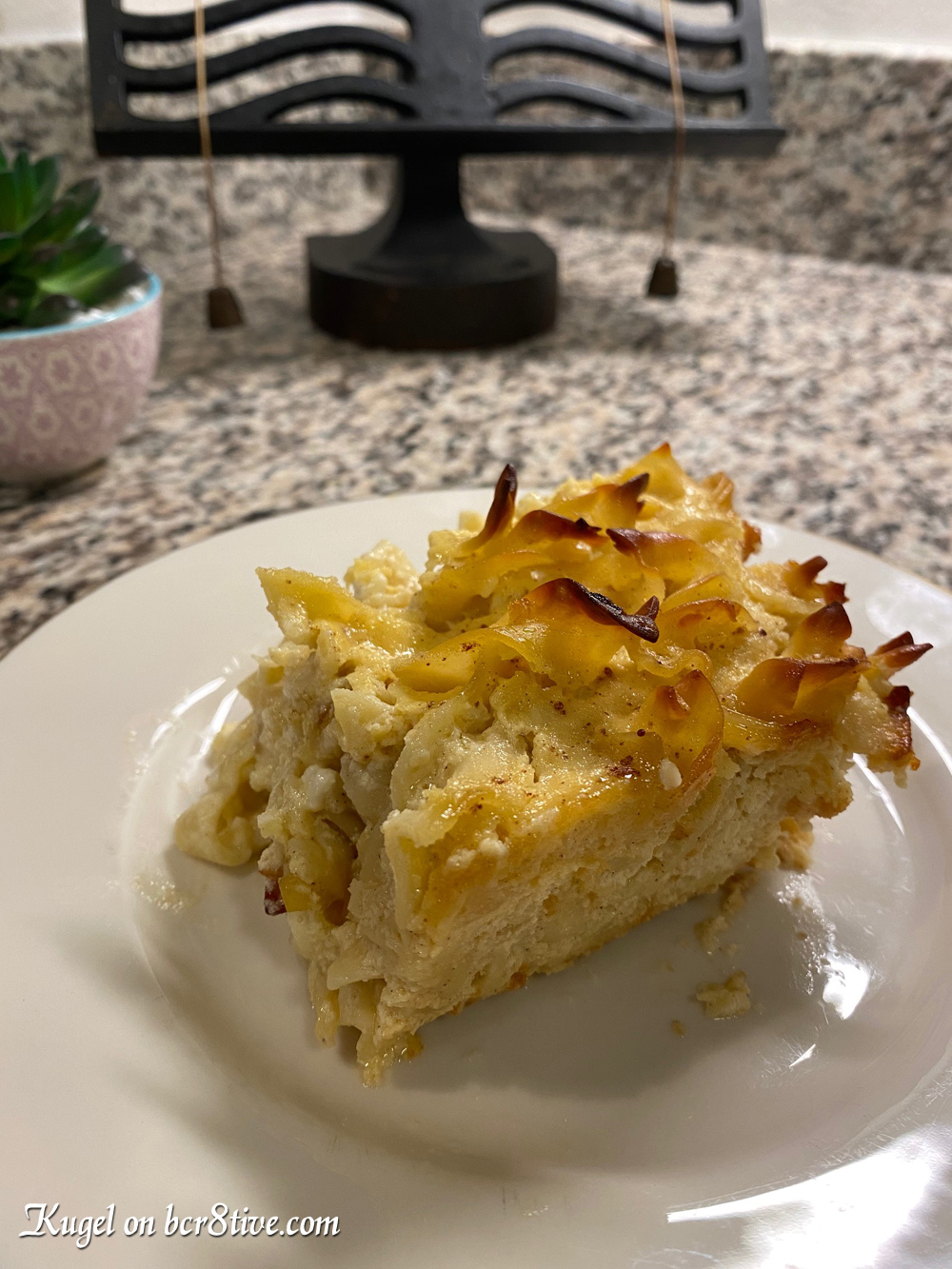 Noodle Kugel with Crushed Pineapple
was last modified:
December 13th, 2020
by