Jean Paul Gaultier Spring 2016 Haute Couture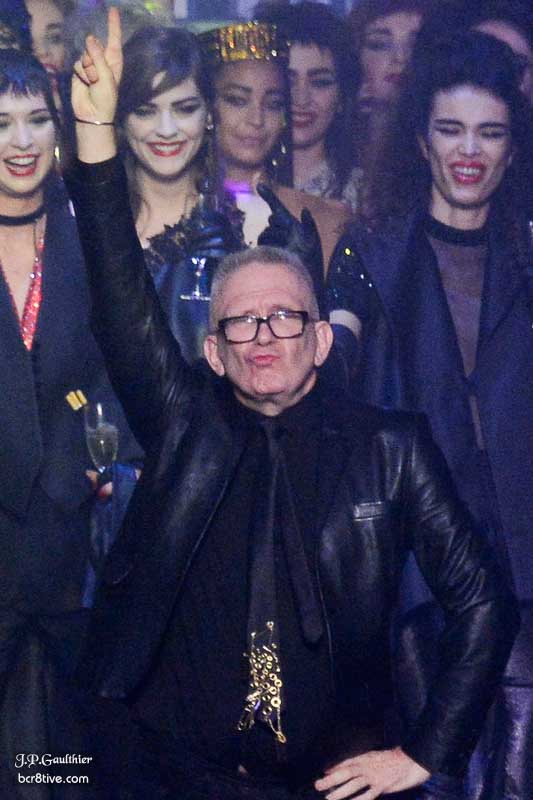 One of the things that I love about jean Paul Gaultier is his zest for life, the passion for his craft and more importantly the people he designs for. He designs clothes we would LOVE to wear and he designs for everybody – and I don't just mean everyone, I mean every BODY. He's displayed his work on the more typical waifish model but also the full figured, petite and older woman. His designs often mix androgynous concepts and he crafts fabulously creative styles for the transgenders.
It was reported that this Haute Couture Collection, was full with joie de vivre; the models delighting in the process, having loads of fun and enjoying themselves and the fabulous clothes. Jean Paul is one of the only well known artists whose shows encourage this and in my opinion, it's everything. It's what fashion is about; the pleasure of adorning ourselves in things that make us feel sexy, attractive, happy and alive. Clothes that are fun and we can envision ourselves in the designs.
This collection offers a wide variety of clothes most would thoroughly enjoy wearing. Jackets are an important construct in the collection. They adorn dresses and gowns. Sumptuously lined car coats and jackets are paired with everything. A leather moto jacket pairs with an evening gown or high waist pants. He turns towards menswear with silk smoking jackets and hedonistic pants. Some smoking jackets sash at the waist with a braid and tassels. Menswear styled suits are exceptionally sultry with waists snatched for the Gods!
The entire ensemble gleams with sequins, crystals, beading and even pearls and though only the finest of fabrics and textures are illustrated, they're worn in a relaxed fashion and paired in a no rules sort of way. Evening gowns are ultra feminine, slinky and body skimming or flowing and lacy. Tops are beaded and dazzling and worn with curve hugging cigarette pants.
The accessories, jewelry and adornments are creative, unique and exciting. Leather gloves are worn short to the wrist or over the elbow. Shoes glitter with sequins. Pillbox hats top lustrous locks with chin straps. Scarves are studded and adorned in strands with charms of razor blades and safety pins. Neck ties are long and artfully beaded. Earring styles are crafted for one ear, occasionally with an alternate design in the other. Many feature extra long attention grabbing, gleaming strands. Rings are worn on 2 fingers, but in still other cases, a clean manicure polishes off a design with no jewelry or at all or perhaps just a beautiful watch.
Let me not overlook the hair styles. Especially one (featured on the cover). Hair isn't pulled off the face as though it isn't a part of an overall look in this collection. Long or short, Jean Paul acknowledges it is quite often who we are and how we see ourselves and is yet another reason why I adore his shows and collections.  I'm crazy about the short style that has got to be the haircut of the year, if not the decade. It's adorable and fits her face perfectly.


















Jean Paul Gaultier Spring 2016 Haute Couture
Please Use the Pinit Button and All Images Will Pin Large and Credit Designers
Jean Paul Gaultier Spring 2016 Haute Couture
was last modified:
May 22nd, 2016
by