Creative DIY Mason Jars for the Holidays
I never like to throw away empty glass candle jars, canning jars, or mason jars so I love to find new ideas for how to re-use & recycle them. Here's some very creative, Do-It-Yourself Home Decorating ideas for recycling & using simple Mason Jars for the Holidays. So many different ideas creative people have thought of to utilize a simple mason jar! Hope you like them ♥
★ Illuminating Holiday Mason Jars from BHG
Wash and dry jars and layer the bottom with the greenery of your choice, and then add a handful or two of cranberries. Pour water into the jar, causing the cranberries to float to the top. Insert a floating candle. So pretty!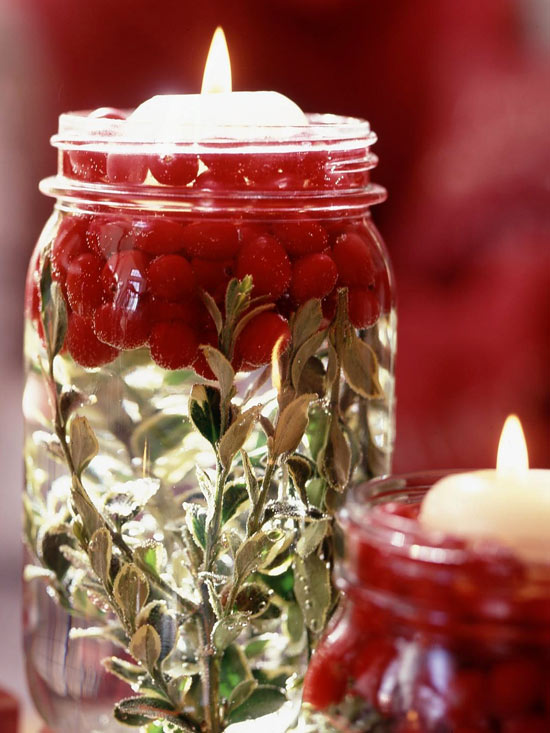 ★ A 2nd version of Illuminating Mason Jars with Cranberries & Candles from BHG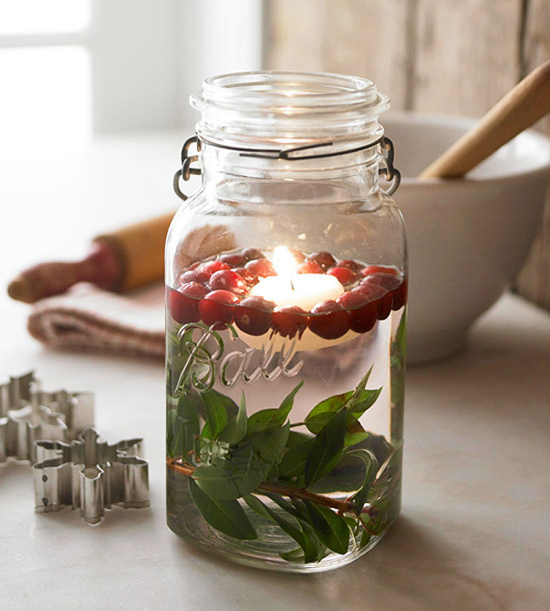 ★ Simmering Scent Mason Jar made by Hillary from a recipe on Creative Holiday Gift Ideas.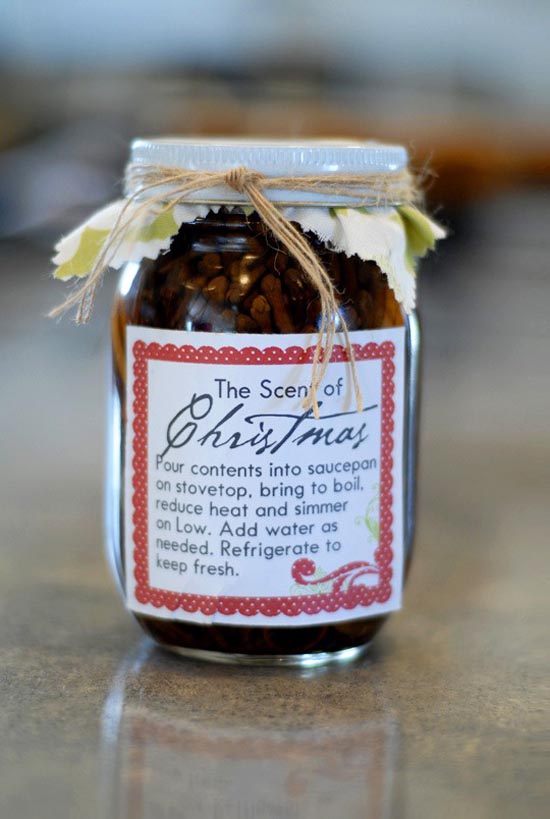 ★ Snowy Epsom Salt Mason Jar Lanterns . An adorable & easy idea from HGTV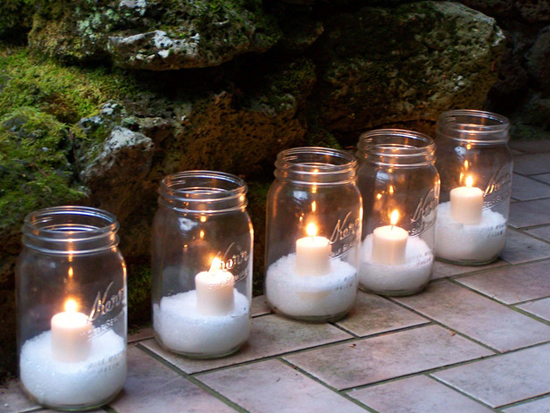 ★ Mason Jar Lanterns or Lights (set of 4) from Midwest Finds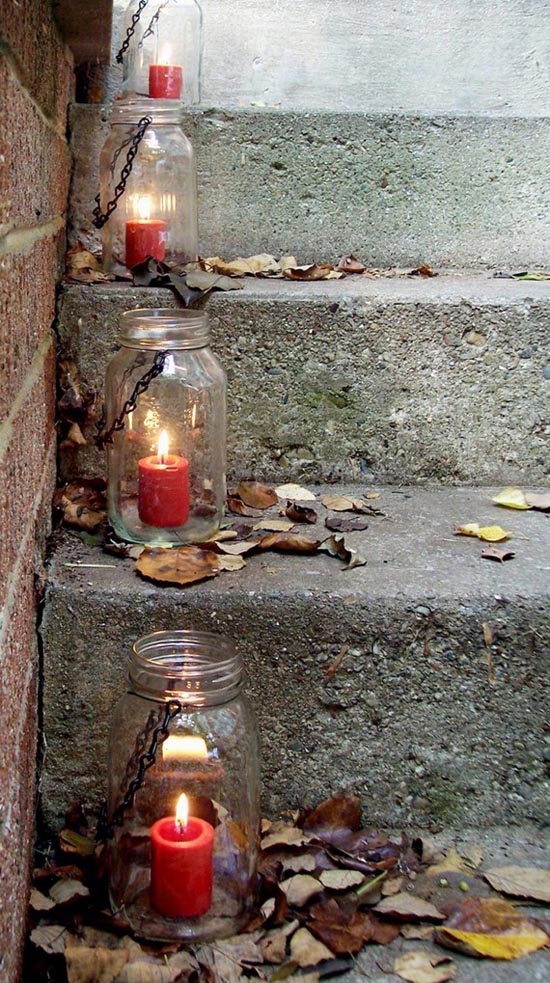 ★ DIY Snow Globes from At the Picket Fence – a Knockoff of Anthropologie's Snow Globe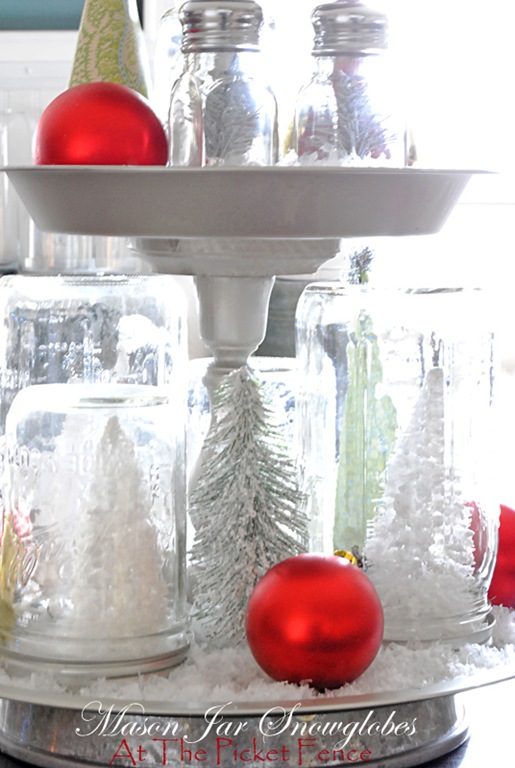 – Here is Anthropologie's Version (no longer available) –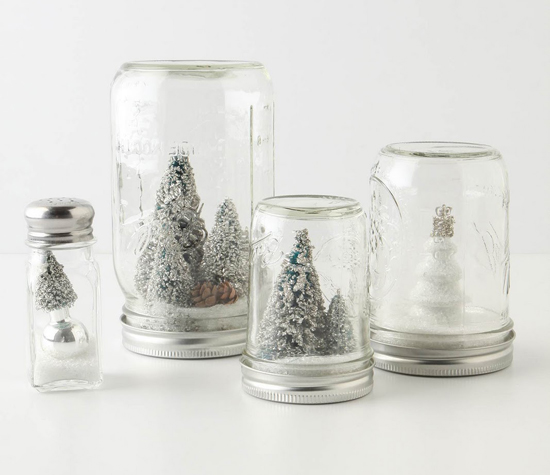 ★ DIY Cupcake in a Mason Jar
I love the idea of a home made gift, especially a tasty one. It's very personal and thoughtful.
This is step by step instructions for making a DIY cupcake in a Mason Jar from mycakies.com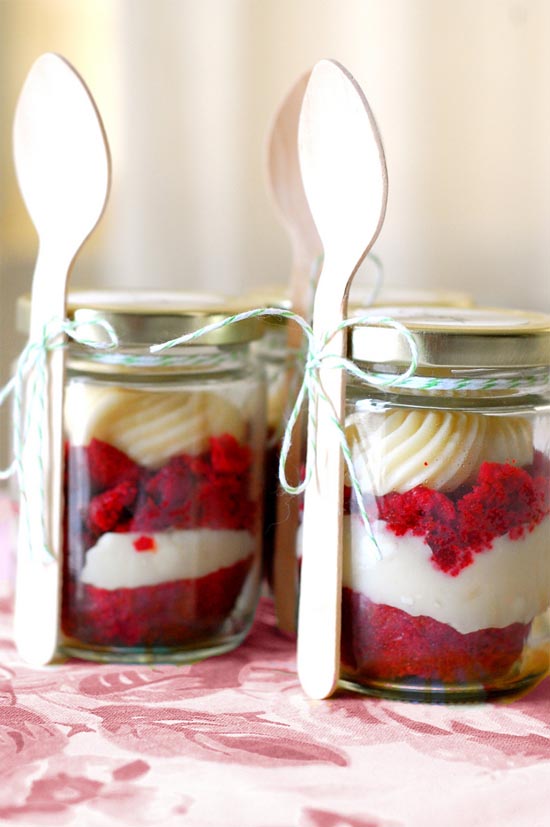 ★ White Chocolate Pretzels in a Decorated Mason Jar
This is an adorable and thoughtful idea from Sherry. She has several pictures of her Mason Jars decorated differently and added white chocolate pretzels and gave them as office gifts. Nice!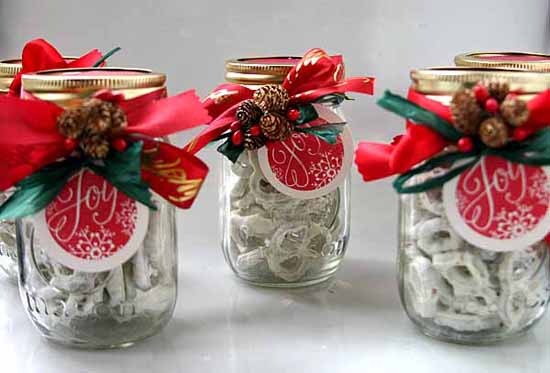 ★ Mason Jar Cookie Mix from Put it in a Jar
Visit this site for the recipe and instructions to make your own Mason Jar Cookie Mix.
I love how she made labels and added measuring spoons!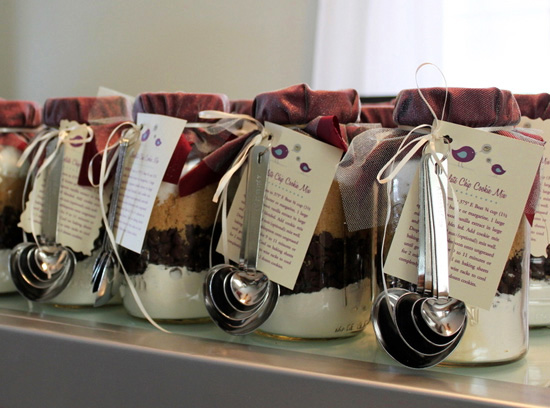 ★ Cookie Recipes in Mason Jars
Here is another variation of the cookie mix in a Mason Jar using Holiday Colors with Red and Green M & M's, from Mel at The Larson Lingo. I like how she made cute, custom labels and added coordinating Holiday fabric to decorate the Mason Jars.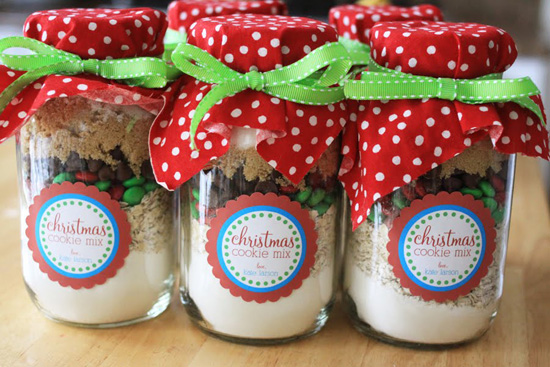 ★ Decorating Mason Jars
I can't find out who originally made these but they did a great job. These are made with different coordinating fabrics, ribbon and branches of flowering twigs. I'd like these with the smell of some Xmas tree branches too!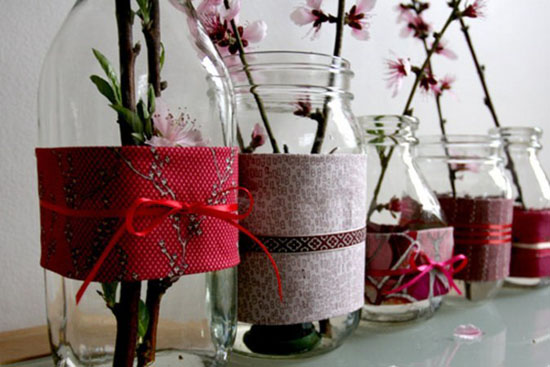 ★ Acorn Decorated Mason Jars
These are cute little Mason jars filled with plastic acorns from Pottery Barn. They're sprinkled into the jars and votive candles are added for a pretty mantle display. I don't see why you couldn't use real acorns for a temporary display, if you have access to some where you live.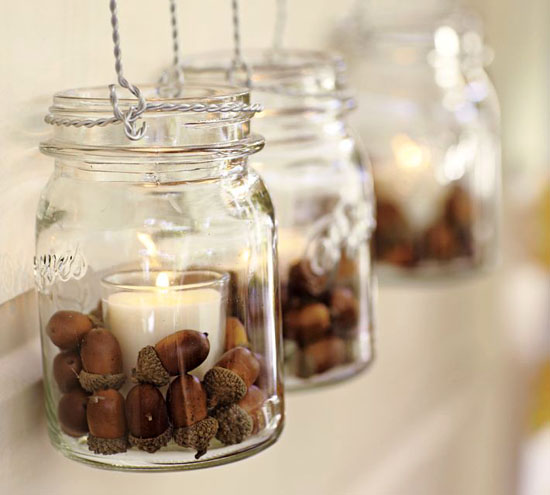 ★ Mason Jar Christmas Centerpieces
Here's a quick and easy Christmas Centerpiece made with the previous Epsom Salt Mason Jars and arranged on a cake stand platter with seasonal greens and pine cones – from Kimba with step by step instructions.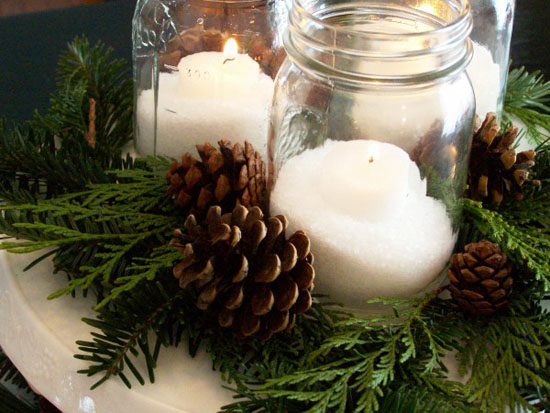 ★ Mason Jars Decorated with Lace & Twine
Here's an easy way to decorate some very attractive Lantern Candle Holders out of Mason Jars. All you need is lace, twine, a glue gun and scissors! This is originally from DIY Projects on Homesessive but I can't find the post.  I did however find the instructions on Casasugar.com.  Pretty huh?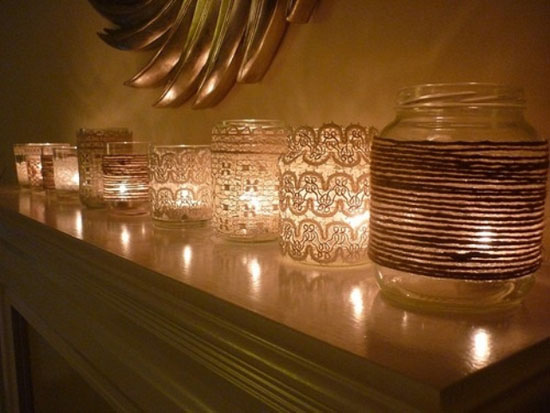 ★ Frosted Mason Jar Lanterns with Holiday Decals
These are a cute and easy way to make Mason Jar Lanterns for the Holidays. Thoughts In Vinyl sells these decals for a mere $2.00! Instructions for frosting are on their site too. They also sell Custom Decals…. for other Mason Jar decorating ideas!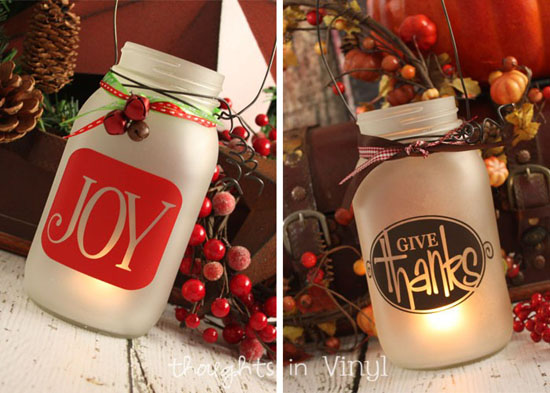 ★ Home Made Candy Cane Play Dough
This is a cute idea for the kids… Leap Into Art has a recipe for making home made play dough and creating these decorative Mason Jars to store it in.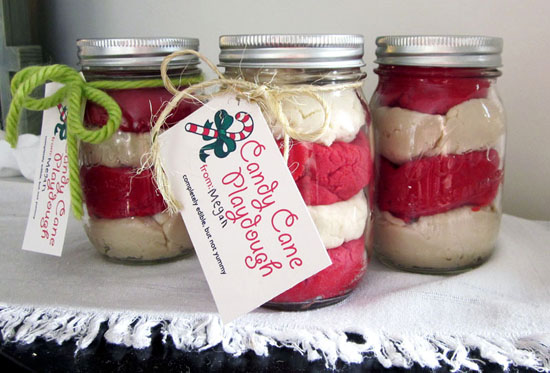 ★  Inexpensive Mason Jars for your DIY Mason Jar Projects.
If you don't have some Mason Jars handy and want to pick some up for very reasonable prices, check out Specialty Bottle. They sell all kinds of jars, jugs, lids and tins, etc. In colors too!
★  10 Pack, Custom Aluminum Lids For DIY Mason Jar Pendant Lighting & Chandeliers
Want to turn your Mason Jar project into a Chandelier? Here are some very pretty Custom Aluminum Lids For Mason Jar Pendant Lighting & Chandeliers from Etsy Shop zoeveedesigns.
How about painting the jars for the chandelier in pretty holiday colors?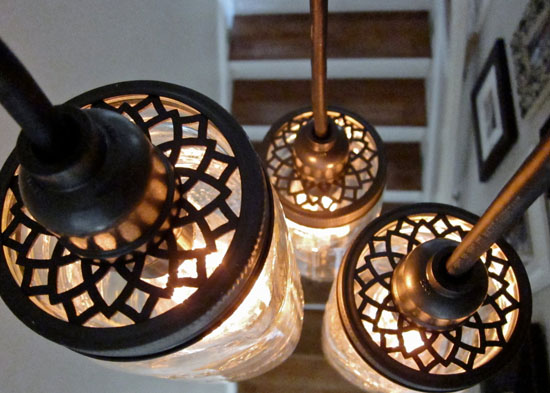 I think there are many more ways you could decorate Mason Jars for the Holidays. Perhaps you could fill them with Holiday colored candy, Hot chocolate with Marshmallows, Coffee Beans, Colored Sand, Pretty Bath Soaps or Bath Beads, Potpourri, Layers of Mixed Nuts and Dried Fruits… Do you have some ideas for Mason Jars for the Holidays? Leave us a note below 🙂
Creative DIY Mason Jars for the Holidays
was last modified:
February 5th, 2018
by