Just Cavalli Spring Summer 2013

Incredible textured dress and combination of colors.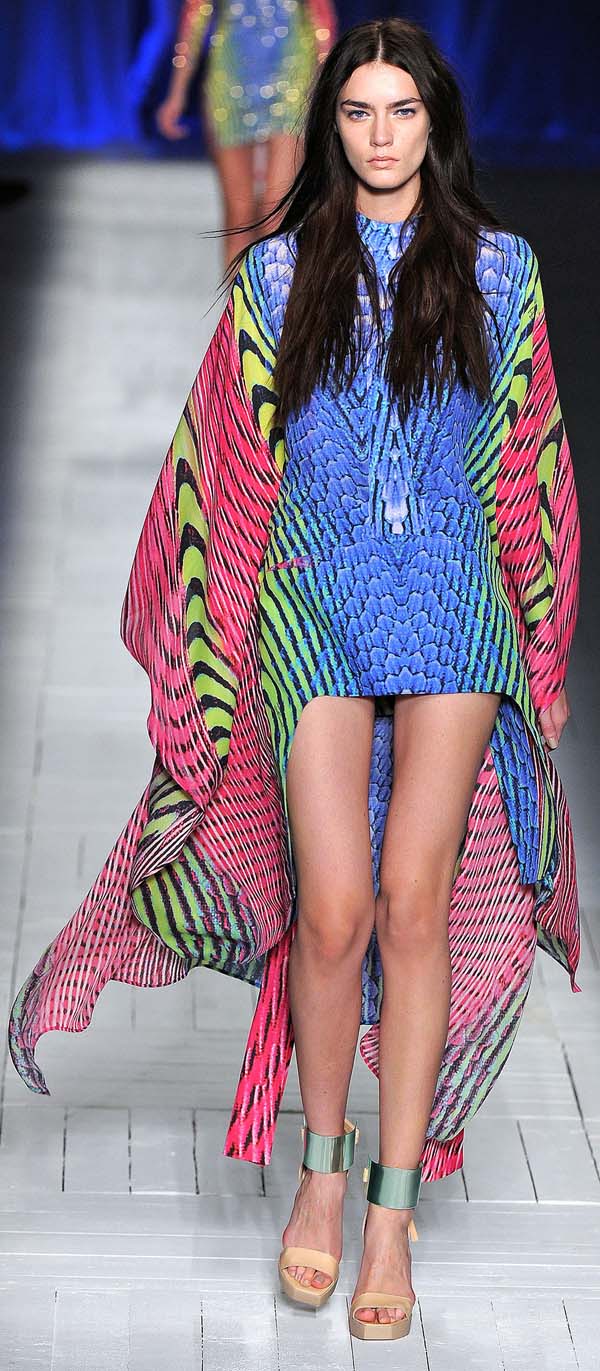 The pattern is mesmerizing. It's very well thought out and creative.

Love the floral border on the top and details on the sheer skirt.
The lace up boots are everything.

The heavy white chain accessory is very clever.
It pairs well with the texture of the skirt and I like the white on white too.

Love the texture on the top and how they carry through as decor on the bottom of the skirt.
I also like the way the skirt's pleats are soft and sheer. It looks like it's a lot of fun to wear.

How cute are the patterned pants and the little mini bolero over a long fitted shirt?




This skirt is so much fun! It's light weight and swingy. The pattern is painterly and creative.

Bright and sassy. Cute little booties.

A creative twist on the conservative masculine look for a woman's suit jacket.
It's uniquely patterned and paired with rocking, beaded white skinny pants.


The texture on this white dress is so incredible and really sets off the lace up boots.

This is very bohemian in an artsy sort of way. I like the lightness of the fabric for summer.

I love these white jeans with cargo pockets and the buttons on the calves.

A hot little dress for a hot little body!


I love the menswear styled long shirt with a high low hem and shoulder epaulets
and I'm crazy about it paired with the black beaded skinny pants.


The lace inset on this little black dress is very unique.

A black menswear styled suit jacket and a sexy sheer lace skirt!

A VERY creative knit sweater!





I like the pop of color in this ensemble. The pink jumps off of the black.
The lace up boots in black are an eye catching accessory.


Love this take on a  motorcycle jack in white leather with textured sleeves and lapels, dual zippered front and diagonal zipper details. I also like worn with the sheer blouse & floral skirt.



Sheer skirts are worn with a variety of tops.

The print is so pretty, I like the combination of animal print with a copious floral.


Just Cavalli's Spring Summer 2013 Ready to Wear Collection shows off unique and colorful prints in trendy, designer tops, skirts and dresses. Animal Prints are mixed with flowers and worn with worn out jeans, suit jackets are paired with lace skirts and the beaded and sequined jeans and skirts rock!
Full Length, Runway Fashion Photos of Designer Fashions from Vogue at Milan Fashion Week. Enjoy!
bcr8tive~
Just Cavalli Spring Summer 2013
was last modified:
February 4th, 2018
by