Creative Halloween Party Ideas vs2
It's getting to be time to get your creep on and host another Spooky Halloween party. It comforts me to know that so many others like to get just a wee bit scared for the fun of it like I do.

 I'm blaming this on my Mom too. She had a game we called "Spooky" that involved her scaring us half to death in a myriad of ways. Once, she used a similar method for 'disciplining' unruly children that wanted '5 more minutes' after dark and I have to admit it worked. She not only got all of us to come in on time, she also had all of the kids from the neighborhood running home before the sun went down. (lol)   


So back to our party … interested in using a fresh palette for you Halloween decorations? How about black and white? The simplicity really allows fresh ideas in to brush away the design cobwebs and help you to be creative. Design your foyer, table, buffet, mantel, staircase or even outdoors. Black and white Halloween pumpkins can be decorated with decals, found items, or painted, without ever having to carve. Use black or white cheese cloth to decorate. It's thin and holey enough to look aged and creepy and flexible enough to make ghosts or to resemble cobwebs. Hang it everywhere! An old fish bowl can become a crystal ball filled with black tulle and a photo or a mask. Illuminate it as a Halloween centerpiece with candles all around or tiny rice lights. Lighting is important for setting the spooky mood. Decorate candles, candle holders or add inexpensive string lights. Use dollar store black cauldrons for serving bowls. Try an indoor Halloween Tree. Hang ornaments on it like ghosts, pumpkins or bats.

You can coordinate your Halloween menu and your treats too. Make the "boos" a part of the theme.  I like the idea of cute and scary treats and in-theme libations but when it comes to entrees I tend to shy away from foods that are made to look too gross. Others may not mind it but I begin to lose my appetite. Personally, I love the spiderweb 7 layer dip that was featured in Creative Halloween Party Ideas vs1 and also the Frightened Hot Dogs in a bun but otherwise I tend to lean towards things like fresh, healthy and colorful dishes and finger foods. Foods like shrimp cocktail or sushi. They don't have to be decorated, they can simply be served on tricked out dinner ware with firey red cocktail sauce. Or try barbecued or grilled chicken or turkey drumsticks in a red marinade like these Halloween Themed Spicy Baked Chicken Drumsticks or these Baked Buffalo Spicy Chicken Drumsticks.
For most of this post I am focusing on what's fairly easy and things that we can make. I like DIY Halloween projects that kids can help with, that help us to save money and look great too.
Decor Tricks
Ghost String Lights from Lights.com
DIY Mummy Lights
Cassie conjured up these adorable Halloween Mummy lights with some glass jars or vases, gauze and googly eyes. They're just the right amount of spooky for the kids and they'd have fun making them too.  From hisugarplum.blogspot
Haunted Halloween Candle Wraps
Here's an idea for a haunted house feeling or spooky garden path that's super easy to make yourself especially since the creator of these very creative candle wrappers provides free printable files to download and print for your candles. From Mr. Printables with instructions.
Free Collage Sheet of Digital Images
Here is another site that put together an awesome collection of scary Halloween decals to make your own spooky DIY votives or pillar candles  and includes detailed instructions.
From Artfully Musing 
Spooky DIY Halloween Candle Props
Made from a simple paper towel roll, hot glue and paint and battery tealight candles. Clever Halloween Decorating ideas for a spooky prop and she has made so many different variations.
From House of Dew

Scary Crystal Ball Candlesticks
From a fellow Disney fan – and my favorite Disney ride of all – The Haunted Mansion in Disney's Magic Kingdom. Bev demonstrates her creative genius  for Halloween Decorations with these uber creative and spooktastic, DIY crystal ball candlesticks modeled after the Crystal Ball room.
From Flamingotoes
Madame Leota Crystal Ball
This clever remake of Disney's Madame Leota Crystal Ball, was modeled by Cindy of Beaux R'eves, who has Halloween event planning down to a science. See how she made it.
Bats Flying Across Pumpkins From It All Started With Paint
Pumpkins with Attitude
These are adorable and filled with ingenuity. Betsy found a new use for stray and salvaged treasures from local antique markets. She decorates and infuses personas into her little pumpkins. Their bodies are repurposed pots and their faces made up of bits and pieces of old jewelry, lace, buttons, watches, hardware, and tarnished silver pieces. SO cute!
From MySalvageTreasures
How to Make Cheesecloth Halloween Ghosts From Tricia of Making it Feel Like Home
House Witch Decor by Diane
Black and White Skulls Mantel From Phoenix Interior Designers & Decorators
Black and White Halloween Pumpkins From Whipperberry
Lace Patterned Halloween Pumpkins
These pumpkins are carved freehand and more reminiscent of 18th century lanterns than spooky pumpkins but I love that they're green. How to make them by Martha Stewart.
Life-Sized Faceless Halloween Ghost With Lantern From Plowhearth
COVER IMAGE: Mr. Bones – Life Sized Skeleton | Pottery Barn
Pottery Barn has a large selection of Halloween decor and party ware
Spooky Treats
Black Toffee Halloween Apples
Alida Ryder donned her creative hat with this modified version of the black candied apples recipe floating around – by using GREEN apples! They're a deep glossy black and spooktacular! From Simply Delicious Food
One easy secret for ominous looking adult beverages for the grown ups at your Halloween party is Black Vodka. IF you're a cocktail chemist or a super mixology sleuth on Google, you could don your Witch or Warlock hat and find some black vodka potions or concoct your own. I like the idea of a black vodka mudslide or martini, but here are a few other ghoulish recipes.
Midori Spiders Kiss Halloween Cocktail Recipe
1 part Midori Melon Liqueur
1 part SKYY Vodka
Juice from 1/2 lemon
Chocolate syrup
Chocolate dipped orange slice for garnish
Preparation
Draw a chocolate web into a martini glass. Place in freezer and chill for a ghostly effect. Shake all ingredients and strain into glass. For a blood effect, drizzle grenadine down the side of the glass. Garnish with a chocolate dipped orange slice OR mix it up in a smoking cauldron.
A tasty green libation from Midori
Black Widow's Raspberry Martini From Grin and Bake It 
★ IF you're considering using dry ice for that spookalicious effect – be certain you do so safely. Here is how you can safely add dry ice to drinks from Betty Crocker.
Scary Halloween Spiderweb Cheesecake Recipe
A dark and creepy, no fuss, no bake, delicious cheesecake.
By Epicurean Mom – I'm feeling the need for a steaming dark drink to go with this.
Skyy Bar Espresso Martini
This may not look QUITE so Halloween'ish but I was looking for a coffee drink to go with the Spiderweb cheesecake when I found it. Skyy Vodka and Kahlua Coffee Liqueur shaken with freshly ground Espresso and Homemade Vanilla Syrup. (Perhaps we can modify this as a hot coffee drink and plop a scoop of vanilla ice cream in it?) 

1 Skyy Vodka
1 Kahlua
0.25 Vanilla Syrup
Dbl Espresso
Coffee Beans (Garnish)
1. Shake all ingredients with ice to get a nice froth
2. Fine strain into martini glass and garnish
    From Skyy Bar at Aviator
Now all you have to figure out, is what are you going to wear?


Pin the Whole Post (3 images)
 Contents from this post are pinned on bcr8tive/Halloween – linked to their sources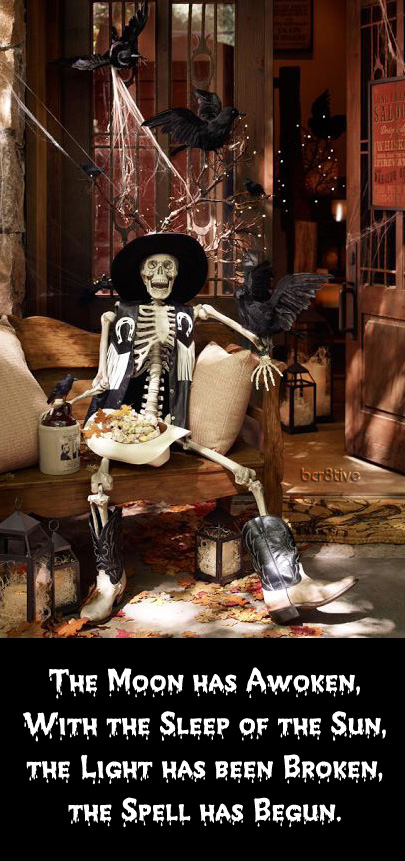 Creative Halloween Party Ideas vs2
was last modified:
August 16th, 2016
by