Creative Fall Centerpiece Ideas
Fall and Winter are great times to put on our designer decorating caps and devise creative Fall centerpiece ideas and unique ways to decorate Fall floral arrangements for our Holiday mantles and tablescapes. We want our winter decor to delight our eyes and senses with the warmth and magic of the season, as well as impress our guests!
I think the easiest way to do this is to start with a great idea, and the centerpieces and floral arrangements featured here are some of the best around! These highly imaginative and innovate people have designed these ultra gorgeous Fall displays and they're all great food for thought.
A rustic look is warm and comforting and lends a lot of character to the floral display. It can be achieved by choosing natural materials and pairing them with various flowers and greens. Vases are creative, they can be made out of pumpkins or natural wood. Birch Bark Vases and Rustic Bark Covered Pots or Twig Planters are popular now and most are made so they can be reused. The talented Holly Chapple shows us an option in her Floral Pumpkin tutorial, using planter foam and never cuts the Pumpkin open. It's simply beautiful!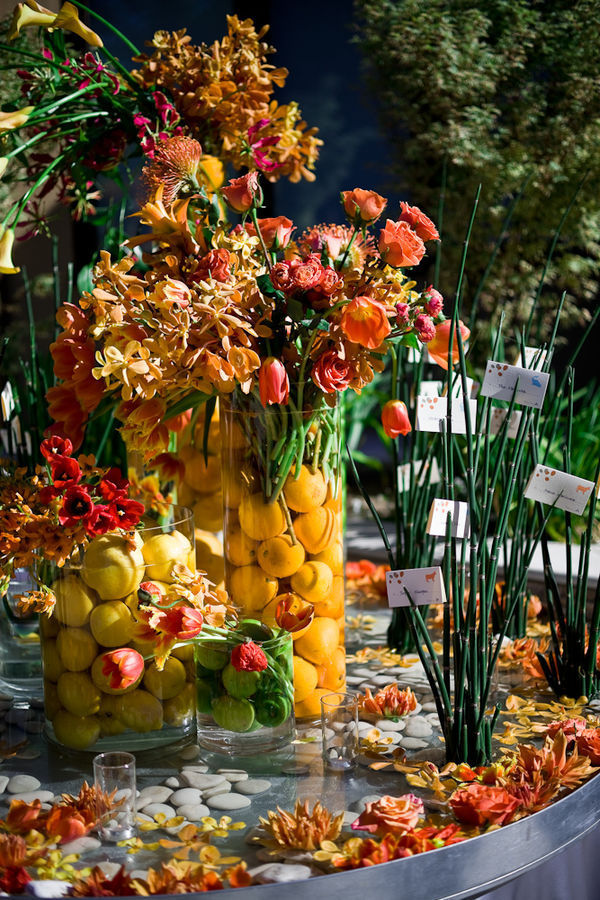 Create glass jars as decorative vases too. Start with Mason Jars, Apothecary Jars, Hurricane glass jars and glass footed vases or even recycled glass containers. Fill them with dried foods that have a long shelf life such as whole coffee beans, dried beans, nuts, berries, corn kernels, bird seed, acorns, pine cones or stones using colors from your chosen palette. You can also try fresh fruit or vegetables. There are lots of instructions on the web for many different DIY methods.
For your flowers, use fresh, dried, silk or even a combination. Use natural products that elicit the idea of the outdoors. Combine flowers with fruits, greens, twigs, grasses, leaves and berries. Don't be afraid to pair the unusual. Check out the Pumpkins filled with Succulents below – So creative!
Include organic elements on your tablescapes with natural looking runners like eucalyptus, vines, or artificial moss. Try evergreens or wreaths in your centerpiece creations. Hide string lights in the wreath. Use matching linens. Coordinate it all with your favorite holiday knick knacks, crystal, fine dinnerware and decorative candles and don't forget your light effects. Create atmosphere and a relaxing mood with String lights, LED lights, or flameless tea lights.
Remember scent. A quick and easy potpourri can be made in a tealight warmer by adding a 1/2 cup orange juice with a couple of cinnamon sticks and some whole cloves. It lasts for days!


• Step by step DIY tutorial for creating a Floral Pumpkin Centerpiece by Holly Heider Chapple
• Fruit filled floral vases by Event Designer Waterlily Pond – Photo by Cliff Brunk
• Kristen's Fall Pumpkin Centerpiece
• Chili Peppers, Succulents & Tulips by Show Stoppers – Clever & Great Color!
• Fall Tablescaping Apothecary Vases
• Acorn Basket with Fruit Decor
• Amber Textured Glass Pillar Stands – Fall Decor
• Fall Twig Container Vase by CreationsByShelly
• Nina Brito table runner made with fresh Eucalyptus, red berries, pine cones & fruit
• Gourds and Cabbage with Vegetable Foliage by Karin Lidbeck
• Kar-Fre Carved Pumpkin Floral Display 
Line the pumpkin with a plastic liner, and fill it with a beautiful, long-lasting flowers.
• Angela's Bella Flora Swag with dried lotus pods, preserved green artichokes, mosses, & silks
• Succulent Pumpkin Centerpiece by tobieanne on ETSY
• How To Add Succulents to a Pumpkin Centerpiece by HGTV
• Laura Eubanks – Autumn Succulent Pumpkin Container Arrangements
• DIY Fall Grapevine Wreath Centerpiece on Stainless Steel Plates
• Birch Bark Vases by MalvinaArt
• Capiz Ombre Pumpkin Red – Fall Decor
• Window display by Paul Ponn
• Birch Bark Vases from aniamelisa
• SHOP HERE for Birch Bark Vases
SHOP More Fall Decor to Coordinate with your Centerpieces

Pin the Post (3 Sections)
Creative Fall Centerpiece Ideas
was last modified:
January 27th, 2016
by