Zuhair Murad Fall Winter 2013-14 Haute Couture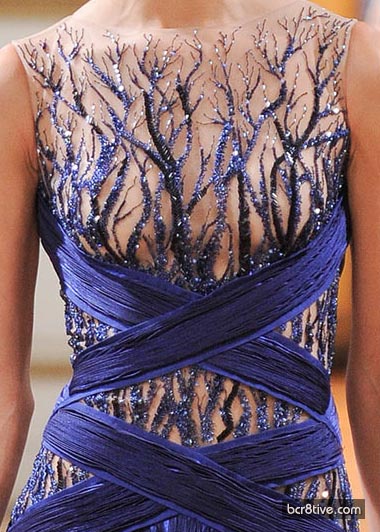 I'm crazy for Zuhair Murad. He has an extraordinary eye for exquisite fabrics and textures, an enviable attention to detail, and a special talent for wrapping the female form in a myriad of creative and alluring ways, time after time.
For me, this collection is a special favorite since Zuhair incorporated trees and tree branches into many of the patterns and designs of the gowns. I've seen one other designer incorporate trees into her designs that I'll be posting soon.
The trees as a key design element on these women's evening gowns, reminded me of my own tree, "Lady Fingers", which is my artistic interpretation of a tree formed from a feminine hand. Also, I have a special affinity towards trees in all kinds of artistic expression and collect many on my Pinterest board, "Trees"; a myriad of artistic, photographic and architectural trees from the Secret Society of Tree People… 🙂












































Zuhair Murad Fall Winter 2013-14 Haute Couture
Zuhair Murad Fall Winter 2013-14 Haute Couture
was last modified:
January 30th, 2018
by