Lemon Ricotta Cookies with Blueberries and Lemon Icing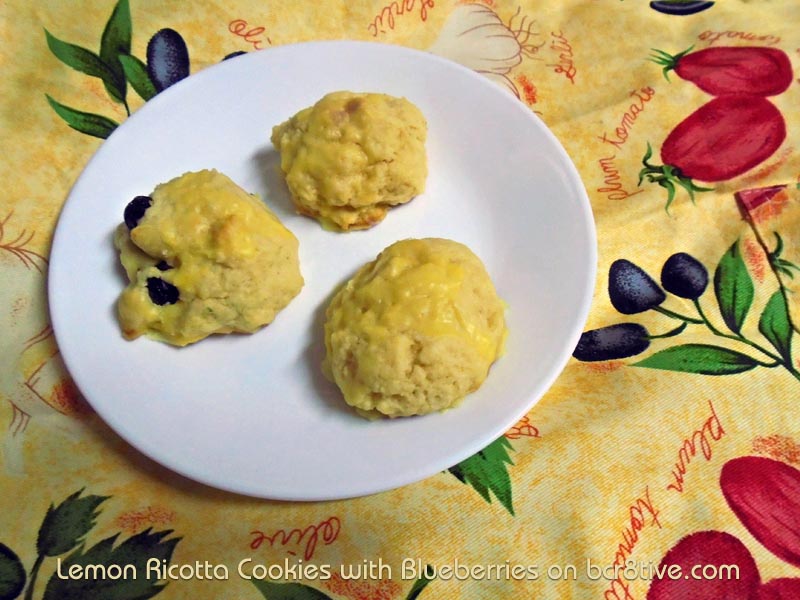 It's summer and here in Florida, it's blueberry season. I love blueberries so much I'm always looking for new ways to eat them. As I write this post I have my infusion mellowing for a future day party and a new post too.  (Can't wait to share it with you and my friends. Be on the lookout

)
So, I've been eating arugula salads with blueberries and feta, and flash heating a handful and drizzling them over fiber muffins – but lately, I've been craving something blueberry with something lemony and even something that isn't too calorie counting. You only live once and they really pair so well.
I started hunting through my Mom's recipes and realized her Italian Cookies recipe is a lemon flavored yummy we often made at Christmas. I began wondering how they would come out with blueberries added. I did a little research to see if anyone else had made anything similar and the closest thing I found was Blueberry Lemon Bread. As I was mulling over the idea of adding the berries to the texture of the Italian cookie, I thought about Italian Ricotta cookies. If you haven't ever had them you're missing out! You might not think a cookie with Ricotta cheese in it would be good, but you'd be mistaken… they're just fantastic. You really don't taste anything at all like cheese, they just give the cookie a soft, fluffy texture. It's a little bit like cake but still a firm cookie! So off I went to don my kitchen chemist hat again!
I made this dough with 2 versions – with and without blueberries. The without version is essentially a Lemon Ricotta Cookie with a creative twist and the blueberry cookies, are OMG! The cookie is moist and fluffy and the blueberries just burst in your mouth.
Another plus about this recipe is you don't have to cook them all at once. The recipe makes quite a bit of batter. After I baked the 1st pan, I chilled the rest of the dough and later, took it out and made 4 dough rolls. I wrapped them in saran wrap to chill and then freeze. Later on, you can defrost a roll on the counter for about 1/2 an hour, slice the cookies about 1/3 inch thick and bake OR, defrost and then drop teaspoons per cookie to make your next batch.
I got 4 more rolls from 1 cooking session! Pretty cool right? All together I think the batch makes 5 'rolls' of dough, all total about 90 cookies. You have to try them, you won't be sorry.
Recipe Below!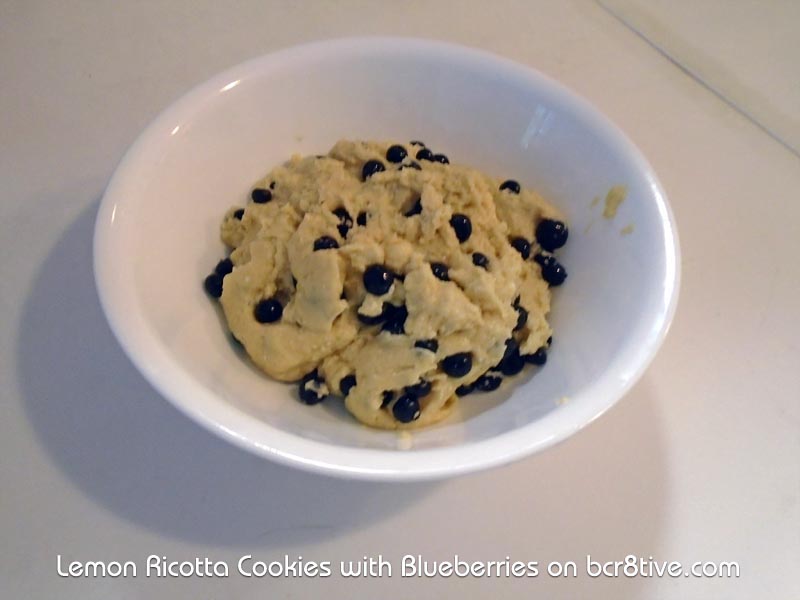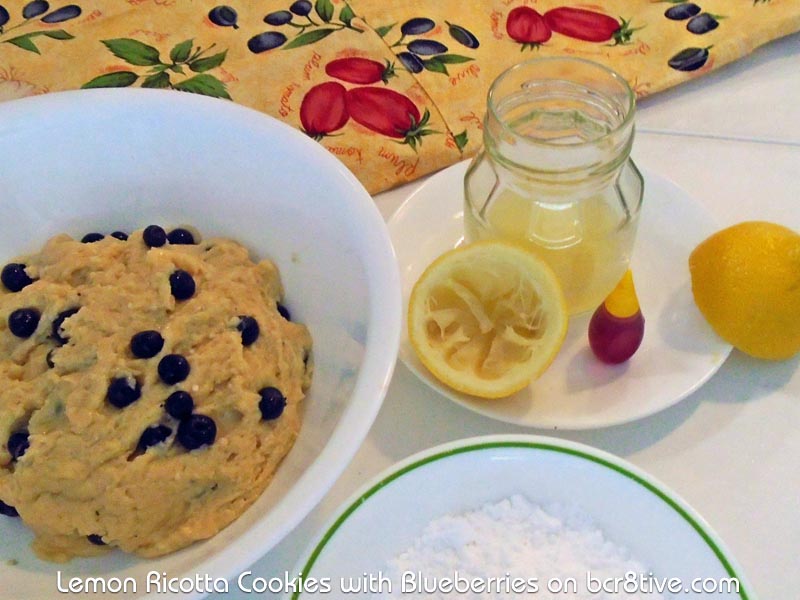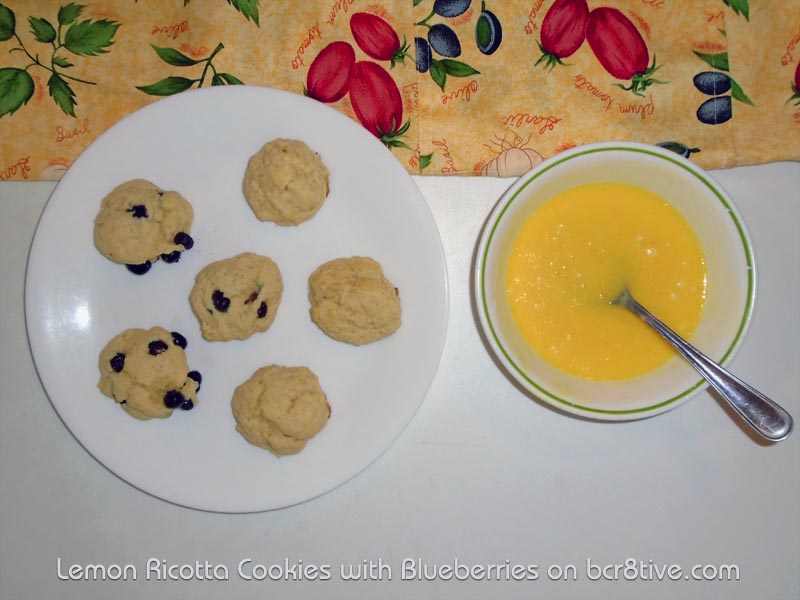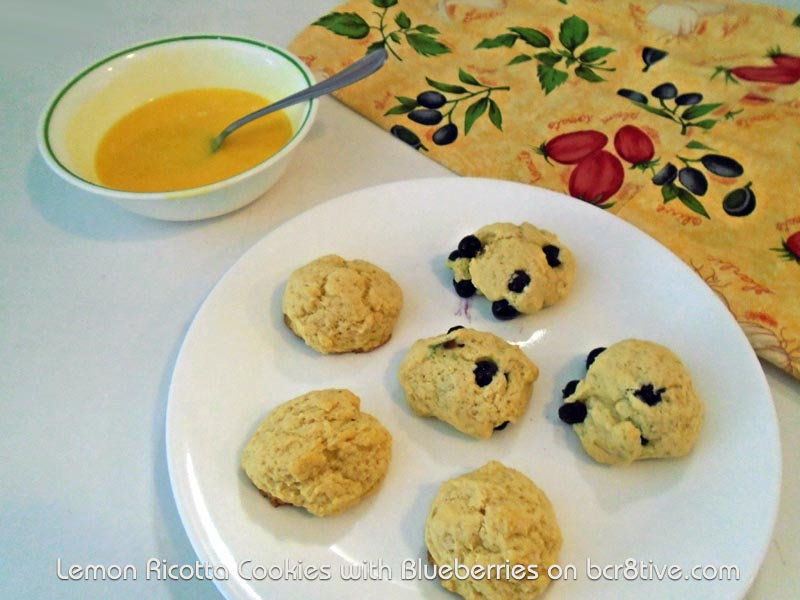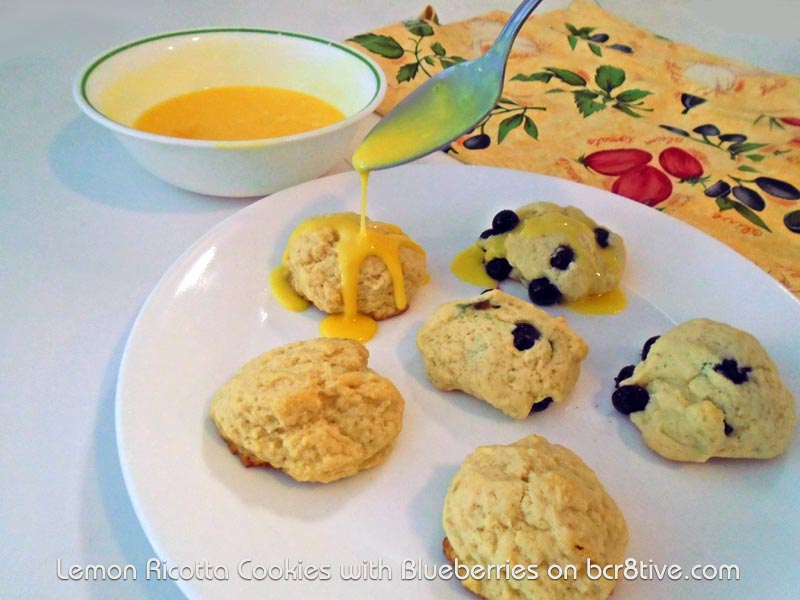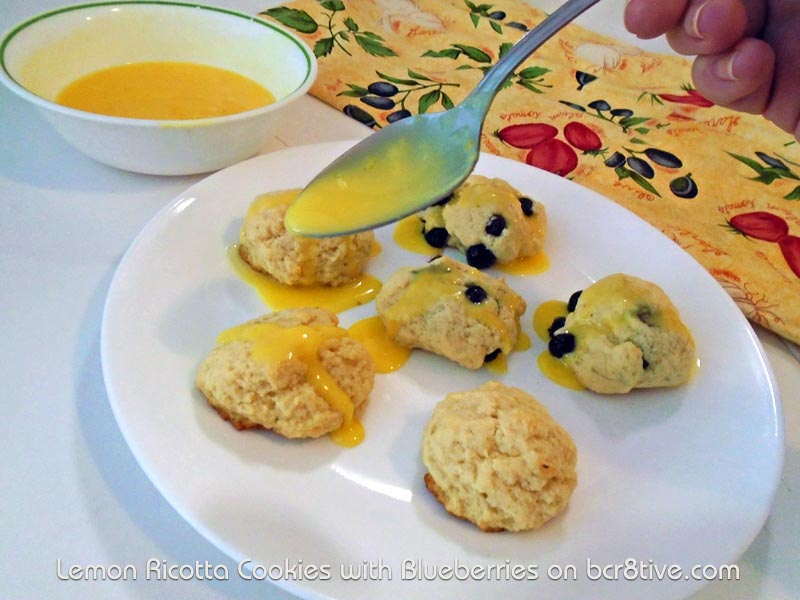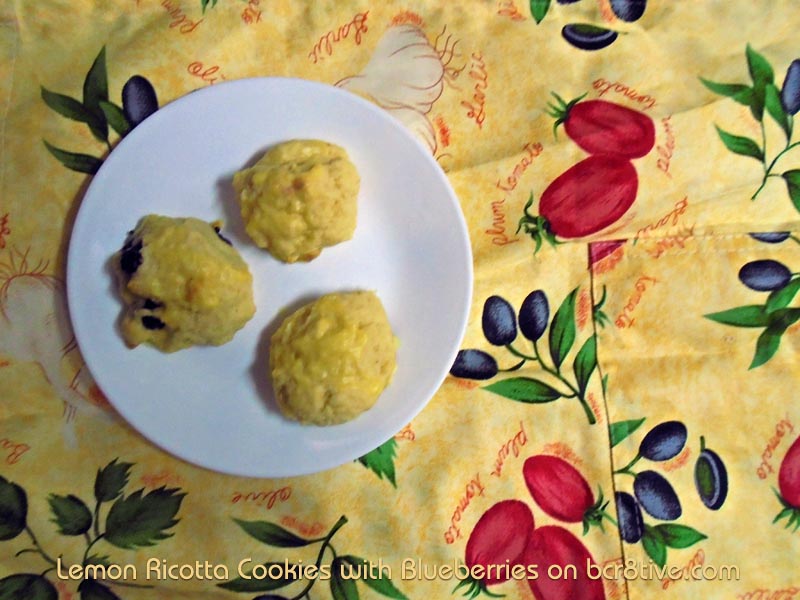 A creative twist on an Italian Cookie and a Ricotta Cookie with the freshness of blueberries added and Lemon Icing.
Ingredients Wet
15 ounces Ricotta Cheese – Low Fat
4 Large Eggs – I personally prefer free range eggs
1/4 cup Melted Butter – about 3 tbsp melted
3/4 cup Canola Cooking Oil (butter & oil to = 1 cup)
1 Lemon for Fresh Lemon Juice (pre-juice, add to small jar, set aside in frig)
3 tsp Lemon Extract
2 drops Yellow Food Coloring 1 to 2 drops is all you need and is OPTIONAL
1 pint Blueberries
Ingredients Dry
5 cups Pre-sifted Flour
1 cup Sugar – can use Splenda substitute
5 tsp Baking Powder
1 cup Confectioners Sugar For icing PER BATCH
Directions
Preheat an oven to 350 degrees F (175 degrees C).
Lightly grease a baking sheet.
Pre-wash the blueberries, drain and allow to drain well. Occasionally, mix them up to be sure the water is draining off while you go work on the cookie batter.
Juice 1 lemon, add the juice to a small jar and refrigerate until you're ready to use it.
Mix all dry ingredients in a large bowl. (The flour, sugar and baking powder) and set aside.
Melt 3 Tablespoons of butter in a glass measuring cup in the Microwave. (I always put paper towel over it in case it spatters, but try not to allow it to stay in there that long. Just a few minutes should work)
Top the measuring cup up to = 1 cup with oil
In a separate mixing bowl, add the Ricotta cheese, the eggs, the extract, and the butter oil. With a hand blender, gently mix on low until it looks well mixed but not over blended.
Add the wet batter to the dry ingredients bowl and with a large spoon, mix together until well blended. Be sure to get the sides and bottom and not leave any remnants of dry flour in the bowl.
If you're going to make the whole batch with blueberries then you can add the pint to this batter now. For my half and half, I cut the dough in half and used 1/2 the pint of blueberries. So I had a lemon version and a blueberry version. Equal amounts.
With a teaspoon, drop a rounded ball on to your baking sheet. On an average cookie sheet I make short rows of 3 on the width of the pan, with about an inch and half of space before the next row. About 12 to 15 cookies.
Bake for 10 minutes. They should only be lightly browned on the bottom. Remove them and cool them on wax paper. Let them thoroughly cool – at least 20 minutes.
Prepare the icing. Add the lemon juice to a cup of powdered sugar and with a teaspoon mix very well until you see no lumps. If it seems too thick to you, add a couple of drops of water. Just a few drops at a time. BE SURE to only add a few drops at a time so you don't thin it out too much. You want it a bit creamy so it hardens on the cookie. If for any reason you need to "fix" your frosting and have to add more sugar, you can use a few drops of lemon extract to amp up the lemon flavor.
Add 1 to 2 drops of Yellow Food Coloring if you would like your frosting to look lemony. *Not necessary since it tastes exactly the same – but it's fun*
When you're sure your cookies are cool. Drizzle the icing over the cookie and let it set. It can take a half hour or more and if you 'cheat' and eat any before it does, they're still delicious ツ They just present better with a hardened icing.
Place the batter you didn't cook in the refrigerator for about an hour. When it's chilled you can make cookie "rolls" – similar to the refrigerated grocery cookies. Wrap each one in saran wrap and refrigerate. If you're not going to cook them soon you can freeze them. If you freeze them, you can take a roll out and either let it semi defrost and slice 1/3 inch cookies OR you can defrost it and roll it up into a batter ball and measure out the teaspoon cookies on to your baking sheet again.
Enjoy with cold milk, coffee, tea, iced tea, lemonade, etc
★ Servings – 7 dozen
• Prep Time – 20 minutes • Cook Time – 20 minutes • Passive Time – 20 minutes
★ For more Creative Cookie Recipes, check out this hit from bcr8tive.com
Authentic Italian Butterball Cookies
Lemon Ricotta Cookies with Blueberries and Lemon Icing
was last modified:
July 24th, 2016
by