Handmade Gothic Fantasy Filigree Jewelry
Jasmyn Lim is a young artist from Singapore that creates unique, one-of-a-kind fantasy jewelry.  She has a special interest in mythology and literature and each of the pieces that she creates  have a mythical inspiration. What is also evident in her work, is her love for the freedom that wings represent. Many of her pieces incorporate the wings of dragonflies, butterflies & birds…
Several of these pieces are keys. I find the combination very thought provoking and believe these pieces make for quite a conversation piece as well as a bold statement in style.
She's also a fan of Steampunk & this is evident in her work too & is a creative combination.
Being a fan of animal totems, I really admire the pieces like the Silverwood Dragonfly Ring – and The Butterfly Effect Key seems to reflect an entire story. I think that the winged hearts would make fabulous & memorable Valentine's day gifts. They're all intriguing & quite pretty.
Sodacrush is her gallery on DeviantArt,  and Valkyrie Couture is her shop on Etsy where you can shop and buy her current pieces or even make a request for a custom order. The following pieces are samples of her work along with some of the inspiration that she describes for them.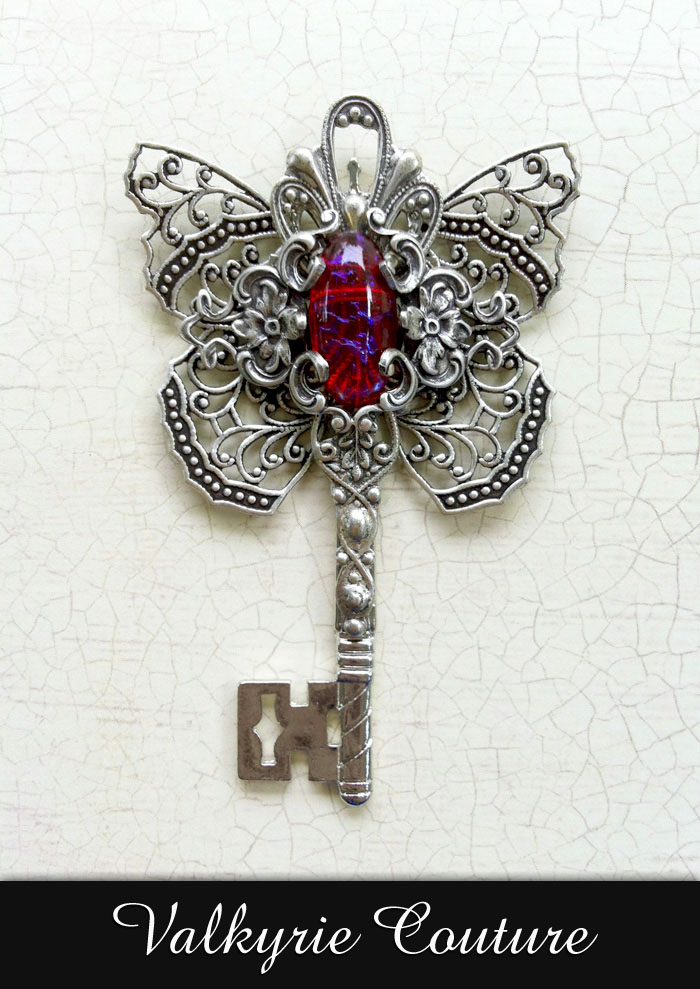 Inspiration:
"When a butterfly flutters its wings, it starts a tornado on the other side of the world…."
This deceptively delicate pendant might hold the power to unlock hurricanes. The glass stone at the center is known as a "dragon's breath opal", and glows pink with flashes of electric blue, like a lightning storm brewing on the horizon of a perfect sunset.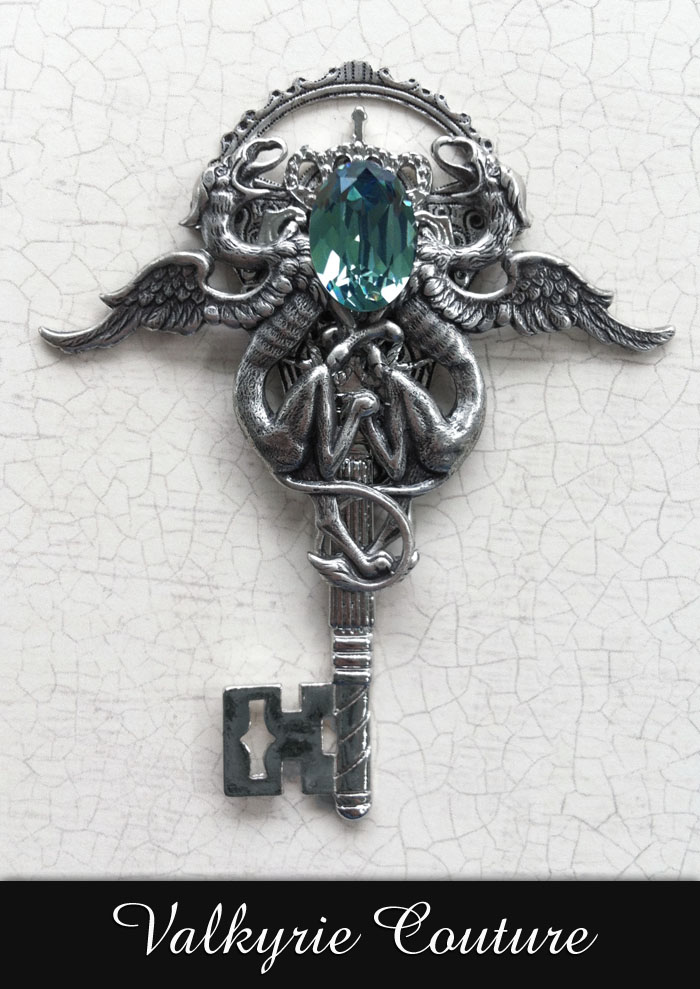 This pendant features two basilisk figures surrounding an Erinite Swarovski Crystal. The name for it was suggested by Elle-Sama on DeviantArt and won first place in a naming contest.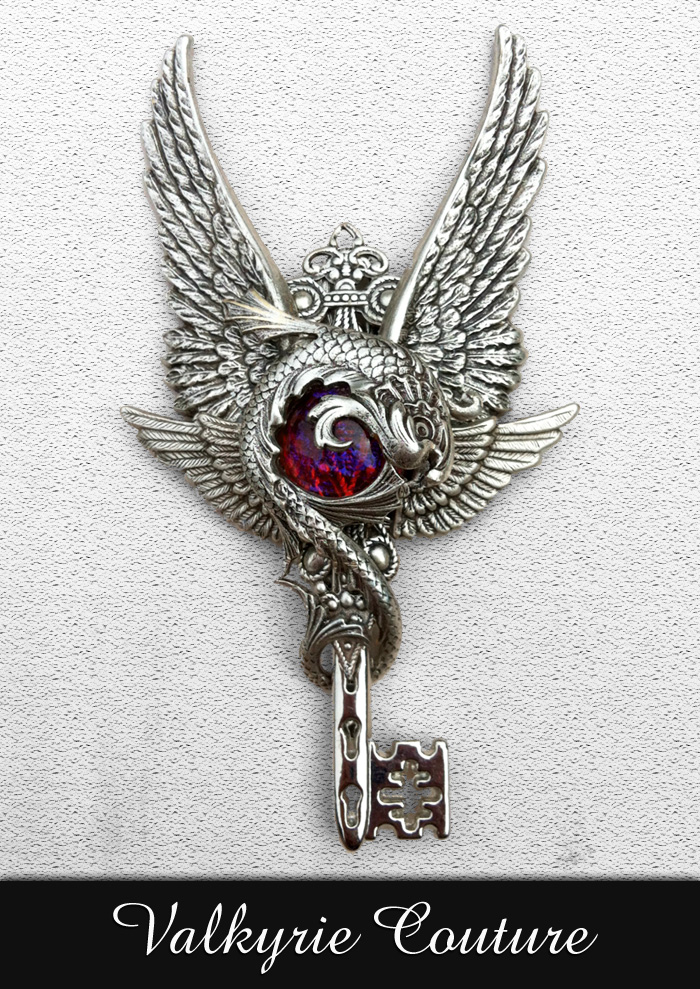 Inspiration:
The Adaro are dangerous merman-like spirits from the mythology of Oceania. They travel on rainbows and waterspouts and kill by shooting poisonous flying fish.
This pendant was inspired by the mythology of Oceania and features a swirling flying fish surrounding an Emerald Swarovski Crystal. It comes with a pair of matching 4mm stud earrings.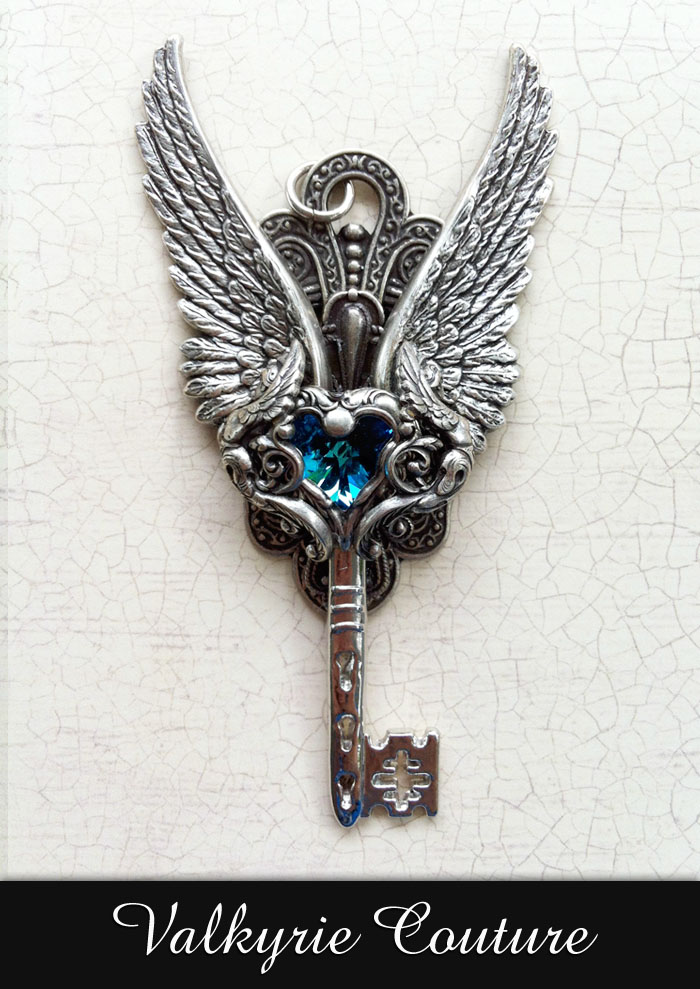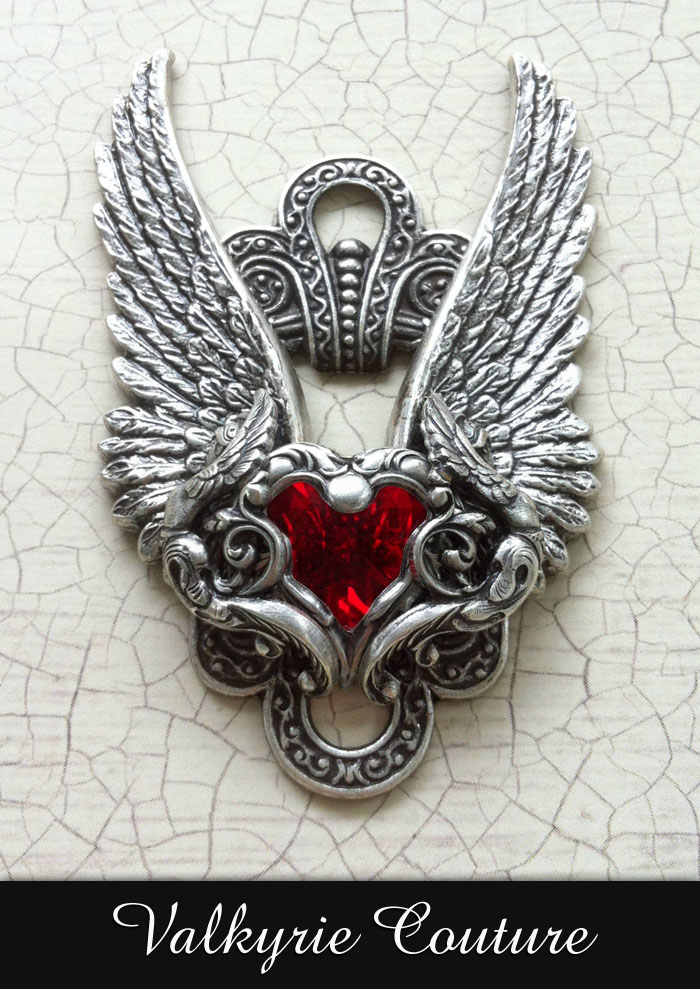 Inspiration:
In Norse mythology, a Valkyrie (from Old Norse Valkyrja "chooser of the slain") is one of a host of female figures who decide who will die in battle. The valkyries bring their chosen to the afterlife hall of the slain, Valhalla, … Valkyries also appear as lovers of heroes and other mortals, where they are sometimes described as the daughters of royalty, sometimes accompanied by ravens, and sometimes connected to swans. -Wikipedia
This lovely pendant was inspired by the fearsome and beautiful Valkyrie of lore, and features a glittering Light Siam Swarovski Crystal heart. A stunning pair of feathered wings fans out behind, completing the elegant look provided by layers of intricate silver plated brass filigree.
See some of the other Winged Hearts too, like the Aeolus Winged Heart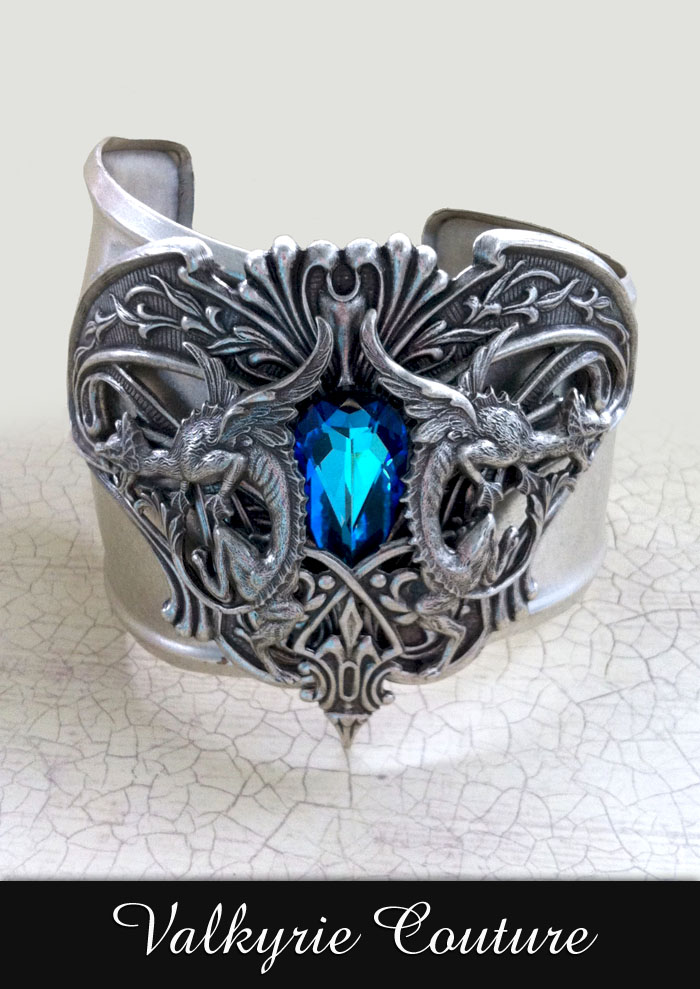 Inspiration:
"The sea is everything. It covers seven tenths of the terrestrial globe. Its breath is pure and healthy. It is an immense desert, where man is never lonely, for he feels life stirring on all sides." -20,000 Leagues under the sea, Jules Verne
This lovely asymmetrical cuff was inspired by the beautiful lost city of Atlantis, and features two guardian dragons flanking a glittering Bermuda Blue Swarovski Crystal drop. The stunning shades of green and blue in the stone seem to be the exact same color as the waters of Atlantis would be, and complete the elegant look provided by layers of intricate silver plated brass filigree.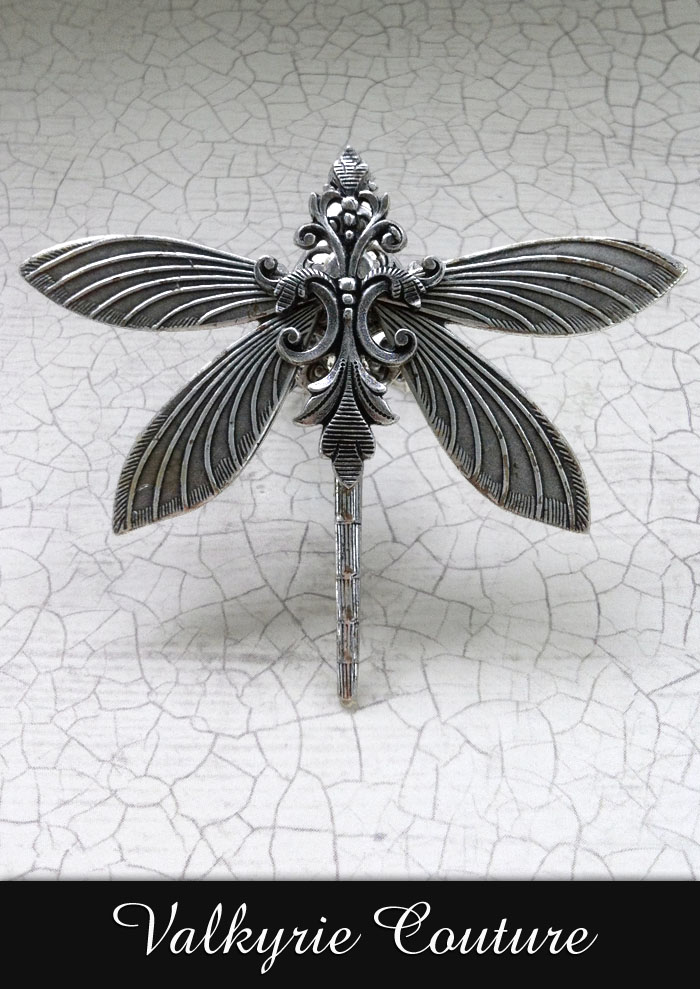 Inspiration:
This silver dragonfly ring is the first in a series of Silverwood rings – little silver woodland creatures. A lovely dragonfly perches atop a delicate filigree scroll ring, its back adorned with intricate curls of silver.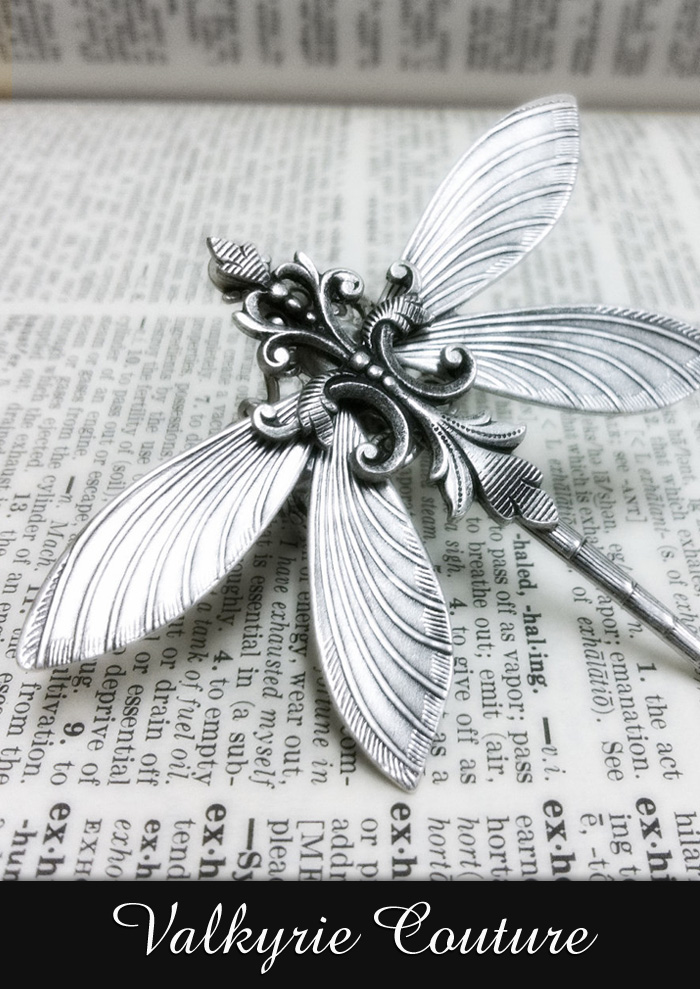 Handmade Gothic Fantasy Filigree Jewelry
was last modified:
February 4th, 2018
by