Monet's Midnight Stroll by Georges Hobeika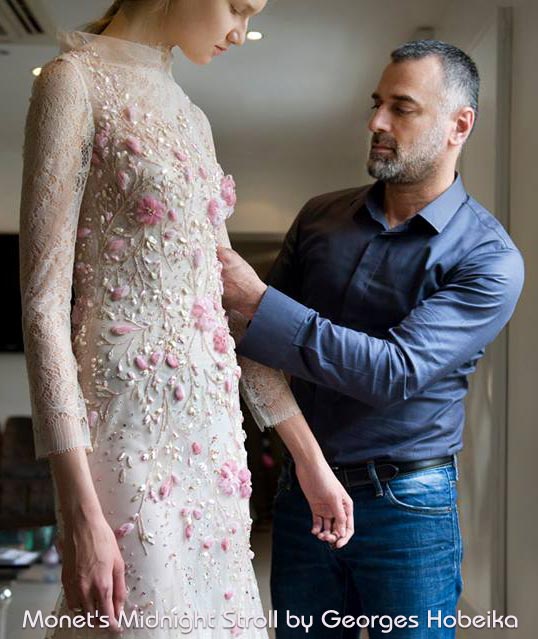 Monet's Midnight Stroll is a tribute to the artist Claude Monet by Georges Hobeika, for his Fall Winter 2014-15 Couture Collection. Monet painted beautiful impressionist paintings of nature with a keen eye for color and Georges Hobeika graced this collection with an eye for perfection and a painterly eye for creative details. Expertly crafted hand embroidery adorns styles in artistic botanical patterns with Swarovski crystals, sequins and beading. Soft, silk, three dimensional appliques create intriguing and feminine textures. Metallic fabrics shimmer like moon light reflections on water at midnight.
Georges Hobeika has spoken of his rapt attention to his palette and how it is his belief that this defines perfection in couture. For this collection he featured Monet's deeply rich styled palette of watery cobalt and peacock blues and the addition of sunset plums and subtle elements of cooler hued violets for accent color. He illuminates the collection with the pearlescent whites of a Waterlily and the high contrast pop of bright coral.
His textures and patterns are painstakingly intricate and engaging. Laser cut petals on dresses create unique floral type textures. Tiny little appliques look like peacock feathers.  For a unique approach to the plunge, he designed key hole necklines. Capes are curvaceous and float off the shoulders effortlessly. He's added several children's couture designs to complete the collection for a royal wedding or black tie event. With the eye of a painter and the skills of an expert couturier, Georges Hobeika paints a woman of elegant grace from a fantasy of dreams.








Monet's Midnight Stroll by Georges Hobeika Fall Winter 2014-15 Couture
Please Use the Pinit Button and All Images Will Pin Large and Credit Designers
Monet's Midnight Stroll by Georges Hobeika
was last modified:
February 22nd, 2016
by